Japanese Language Course
Download a Flyer & an Application Form
You can learn:
Useful Japanese for daily life
Conversational Japanese for open-minded discussion
Japanese for studying in Japanese schools
Business Japanese
You can study:
Using a well-planned and efficient curriculum
With thorough lessons by experienced teachers 
With an upbeat and fun atmosphere
In a small group where you can ask questions anytime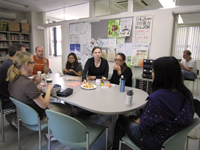 Great chance to have a lively chat in Japanese!
Enjoy early lunch with friends in the lobby during the break!
Why don't you have fun and study Japanese?  
We also have "Kaiwa (conversation) Partner" matching program for a YWCA student and a Japanese volunteer (trained at the YWCA College) to practice conversation in Japanese.
 
 
At Kobe YWCA,
You can study Japanese with people from different countries.
This study is not only to prepare for university.
Rather, you can learn handy Japanese for everyday life.
We can meet any of your needs and purposes flexibly, so you can study not only conversation but also Kanji (Chinese characters) or the Bible in Japanese.
Kobe YWCA has almost 40 years of skills and expertise in Japanese teaching.
Those who study Japanese for the first time will enjoy speaking in Japanese.
Those who have studied Japanese before will feel the improvement.